CEC Feroz Khan inspects ongoing sports infrastructural developmental works
KARGIL, SEPTEMBER 14, 2022:
Chairman and Chief Executive Councilor (CEC), LAHDC, Kargil Feroz Ahmed Khan today inspected the ongoing sports-related infrastructural developmental works in the district.
Executive Councilor Works Mubarak Shah Nagvi, Superintending Engineer PWD Abdul Mutalib, Executive Engineer R&B Muhammad Sadiq, DYSSO Kargil, and Engineers of PWD and R&B besides other concerned officials accompanied the CEC.
The CEC inspected works at Ice Hockey Rink, Youth Hostel, Pavilion at Biamathang and International standard Ice Hockey Rink, Astroturf Football Synthetic Track Youth Hostel and Training Center at Airport road.
The concerned officer informed CEC Khan said the Astroturf Track will be completed within 20 days. He directed the concerned officers to complete the works at the stipulated time.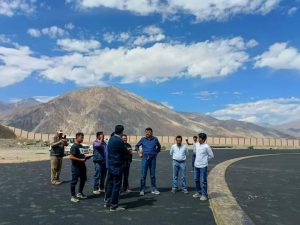 At Ice Hockey Rink Bimathang which is developing under SDP at the cost of Rs 9.50 cr, the concerned officer informed the CEC that the land issue needs to be resolved with a common consensus with District Forest Officer. CEC Khan assured immediate redressal of the issue.
CEC inspected the ongoing construction work of Youth Hostel at Biamathang which is almost at the completion stage. He directed the concerned officer to elevate the roof of hall at the second storey and also directed to finish the reaming works at the earliest.
At the construction site of Pavilion, CEC Khan directed to shift the store room which is at the front side of the pavilion building to the other side.
He also directed the concerned officers from Youth Services and Sports Department to hold a review meeting with the architect and the consulting agency for necessary modifications in the design of the building.
CEC Khan also directed the concerned officers to maintain the high quality of construction materials and strict adherence to guidelines.