CEC Feroz Khan visits Trespone, takes assessment of expansion works of Imam Bargah, functioning of PHC
Kargil, Feb 04, 2023: Chairman/CEC, LAHDC, Kargil Feroz Ahmed Khan today visited Trespone to take an assessment of the expansion works of Imam Bargah Trespone and the functioning of Primary Health Cente, Trespone.
Superintending Engineer PWD, Abdul Mutallib, Councilor Trespone Constituency, Aga Syed Mujtaba, Executive Engineer Suru Valley Division (SVD), Syed Mehdi besides concerned officers and civil society of Trespone were present on the occasion.
At Imam Barah, Councilor, Aga Syed Mujtaba informed that the Imam Barah is a historical building and was reconstructed in 1988. He informed that the present space of the Imam Bargah can't accommodate the present population and needs immediate expansion.
He requested that the link road to the Imam Bargah needs extension besides the parking/platform of Imam Barah and extraction of rock cliff needs to be done for the ground leveling of the Imam Barah.
Aga Mujtaba requested that the demands need the attention of the Administration and work needs to be started. He said the construction of Imam Bargah will be done by the villagers on crowdfunding.
The CEC while addressing the villagers said considering the importance of the Imam Bargah, the demands of the villagers will be addressed at the earliest.
Khan added that considering the fact that the Imam Bargah will be constructed by the villagers, it will ease work of the government. He assured that platform/ parking works and extension of link road to Imam Barah will be done at earliest and directed the concerned to submit the DPR's regarding the works at the earliest after negotiating with the village committee.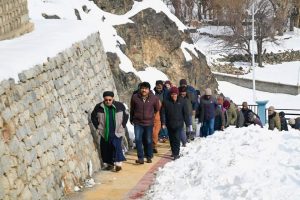 The CEC assured that budget allocations will be reflected in the next financial plan of the year 2023 for the smooth execution of works. He further directed the concerned officer of SVD to reflect the works in their plan.
Later, the CEC visited PHC Trespone where the incharge Medical Officer, Dr Zakir Hussain informed him about various works undergoing at the health facility.
Khan inquired about the functioning of OPD and other patient care facilities being provided to the patients. He also took assessment of vacant posts and assured that a pharmacist will join the PHC by Monday while a Medical Officer will also be posted very soon.
Khan directed the concerned department to find ways and measures for the construction of a glass room and washroom for staff for which financial provisions will be allocated by the CEC from LAHDC Untied funds.
Regarding the requirements of doctors, senior nurse and data entry operator, the CEC assured of necessary interventions for better patient care.