CEC Khan inaugurates newly upgraded High School at Apati
Kargil, Nov12, 2022:
Chairman and Chief Executive Councilor (CEC), LAHDC, Kargil Feroz Ahmad Khan in presence of Additional Deputy Commissioner Kargil, Ghulam Mohi-ud-din Wani today inaugurated the newly upgraded High School at Apati village in Sodh block.
Besides the ADC, Chief Education Officer, Kargil Mushtaq Ahmad, BDC Chairman Sodh, Zakir Hussain, Incharge Headmaster of the School, Major Rahul from army 177 Medium Regiment, Sarpanches, Panches, BJP Media Secretary Ladakh Hassan Pasha, prominent persons of the area besides teachers, parents and students were present on the occasion.
The CEC in his address congratulated parents, students, people of Apati and its adjoining villages for the upgradation of Middle School to High School which was a long pending demand.
The CEC said this is the only school from Kargil district that has been upgraded this year and the students will have access to 10th-standard education at their doorsteps.
Highlighting the immense importance of education in bringing positive change and overall development of society, Khan urged parents, teachers, students and community members to make collective efforts to ensure quality education. He assured of all support towards the augmentation of required infrastructure for the school.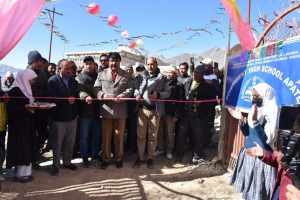 The representatives of the area submitted a memorandum of demands to the CEC regarding the school's infrastructure, laboratory, library facilities and staff.
Reacting to the demands, the CEC said that laboratory and library facilities will be made available soon and for infrastructure, he assured of suitable follow-up. Regarding shortage of staff, Khan assured to make possible arrangements.
On the occasion, the ADC advised parents for equality of education to both girls and boys adding that without education society can't progress.
The CEO Kargil instructed the school management to register the newly upgraded classes with Central Board of Secondary Education (CBSE). He thanked Chairman/CEC, LAHDC Kargil and ADC for their appreciation.
BDC chairman, Sodh Zakir Hussain also thanked the UT Administration for fulfilling their long pending demand.
On the occasion, Hassan Pasha said that it is a historical movement for the whole area. He also said that developmental activities have sped up after the formation of UT Ladakh.
On behalf of the Indian Army, Major Rahul assured to continue their support for the school in the future also.
Earlier, the CEC attended Annual Day Celebration of Islamia Public School Apati where the students presented colourful cultural programs.
On the occasion, Khan appreciated the school management for their efforts in running the private school in the rural area. In the end, the CEC and other guests distributed prizes among students.