EC Tashi visits Hunderman, Karchaykhar villages to assess developmental works
Kargil, Nov12, 2022:
Executive Councilor RD, Tourism and Zanskar Affairs Er Punchok Tashi today visited Hunderman and Karchaykhar villages to assess various developmental works.
Councilor Poyen Constituency Muhammad Ameen, Councilor Thasgam, Sankoo Abdul Raheem, Assistant Director Tourism Aga Syed Toha, Exen KDA Murup Dorjey, AEE KDA Muhammad Sidiq and JE KDA Shahnawaz accompanied the EC.
During the visit to Hunderman, EC Tashi inspected the work progress of cafeteria, Selfie Point and Car parking. The EC stressed to complete the ongoing construction work of cafeteria. Regarding the widening of car parking and selfie point construction, he directed to complete it within the stipulated time.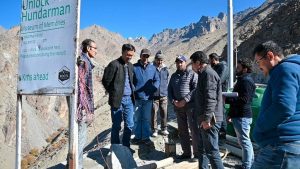 During the visit to developmental heritage site of Buddha Statue at Karchaykhar phase –I, the EC was informed that the construction work viewing deck for Buddha Statue is completed and the construction work of adjoining footpath is 90 percent complete.
EC Tashi directed the concerned department to complete the finishing of viewing deck at the earliest. He also directed for land and tree compensation for villagers.
He also directed to install lighting system at viewing deck and facilities of drinking water through submersible pump at the Buddha Statue.