Director Tourism Ladakh Kunzes Angmo convenes meeting of tourism officers at Kargil
Reviews progress of different developmental projects under different schemes
Kargil, Nov12, 2022:
Director Tourism Ladakh Kunzes Angmo on Friday convened a meeting of Tourism officers at Kargil to review the physical and financial progress of different developmental projects/works under different schemes in the District and discussed other issues.
The meeting followed with elaborate discussions on the status of each ongoing scheme in hand with Tourism Development Authority Kargil and Zanskar at different places of the district.
The Executive Engineer Tourism Development Authority Kargil and Zanskar were instructed to speed up and to expedite different works and also to ensure payment of maximum genuine work done claims by the end of November 2022.
They were also directed to ensure that standard quality material is used in construction of new buildings especially raising of double storey at TFC building and also ensure timely completion and timely payment of work done claims and to be stick to the approvals granted by the competent authorities.
All concerned officers and executing agencies were also directed to formulate plan and DPRS for next year projects during the winter months and keep DPRS ready for AA, and at the same time all officers were also directed to submit physical financial progress report on due dates.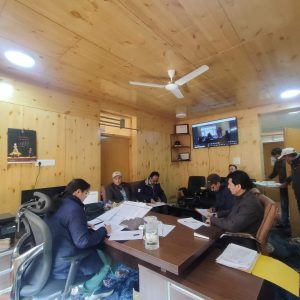 The Director Tourism also visited and conducted spot inspection of different projects/works executed by NBCC at Kargil, Sankoo and Drass under Swadesh Darshan (PMDP).
While conducting inspection the Director Tourism had a detailed review of physical and financial progress against each scheme and asked the Project Manager NBCC to accelerate the pace of work in view of short working time and complete the projects within the targeted period and be handed over to the department. The NBCC officials were also asked to furnish latest physical and financial progress report to the Director.
The Director further visited CEO Tourism Development Authority's Office, construction sites of TFC building and River Front Development to take stock of latest status of these projects.
The Director Tourism was accompanied by CEO Tourism Development Authority Kargil, Assistant Director Tourism Kargil, Ex. Engineer Tourism Development Authority and Project Manager NBCC during the tour at their respective sites.