Cleanliness drive under SBM-G held at Chanigund, Minjee
Cleanliness drives will be held in all Panchayats of Kargil ahead of World Environment Day
Kargil, June 02, 2023:
Ahead of World Environment Day, Rural Development and Panchayat Raj Department (RD&PRD) today organized a cleanliness drive under Swachh Bharat Mission Grameen Phase-II at Chanigund and Minjee with emphasis on cleanliness and disposal of waste
Panchayat Secretaries, PRI members, locals including women and shopkeepers of both villages participated in the cleanliness drive.
At the outset, streets, roads and vicinities of both the Panchayats were been cleared and the collected waste was disposed of in an eco-friendly way.
The locals of both the village including Sarpanchs, Panchs and women took part in the cleanliness drive and resolved to strive for cleanliness, sanitation and hygiene in and around their houses and vicinity.
The locals were sensitized about various factors responsible for creating garbage and unhygienic conditions in and around their houses. They were motivated to protect the environment and maintain hygiene.
During the cleanliness drives, it was informed that public cooperation is needed to fulfill the aim of celebrating World Environment Day-2023. This also underscores the importance of World Environment Day in mobilizing transformative action from every corner of the world.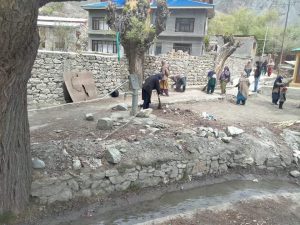 Later, the PRI members also passed the resolution of single-use plastic ban and ensured preventive measures will be taken in future for protecting the environment.
The theme for World Environment Day 2023 will focus on solutions to plastic pollution under the campaign 'Beat Plastic Pollution'. In this connection, cleanliness drives will be held in all Panchayats of Kargil this week.