KARGIL, NOVEMBER 10, 2021: Commissioner Secretary Housing and Urban Development Department Ladakh Ajeet Kumar Sahu took stock of the status of various infrastructural works in Kargil Town during a meeting with the concerned officers at Conference Hall Baroo.
Director Urban Local Bodies UT Ladakh Dr Zahida Banoo, Deputy Commissioner and CEO, LAHDC, Kargil Santosh Sukhadeve, Superintending Engineer PWD Er Tashi Tundup, Chief Planning Officer Abdul Hadi, Executive Engineers of PHE, R&B-II, Suru Valley Division, PMGSY and PDD, Executive Director NHIDCL besides other concerned  officers attended the meeting.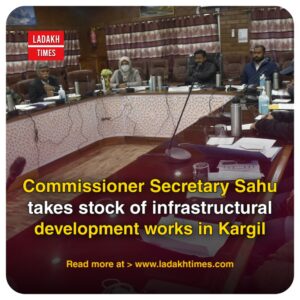 The consultant preparing Greater Kargil Master Plan 2050 made a detailed presentation on progress and status of GIS based master plan. The consultant apprised that the inception report has already been submitted and now work of ground proofing, primary survey, secondary data collection is in progress. He told that door to door data collection work will start from this week.
Sahu asked the DC Kargil to convene the meeting of the monitoring committee on monthly basis to review the progress of the master plan and take required action on removal of obstacles if any.
The meeting was informed that phase-1 of traffic volume survey for the Master Plan has already been done in October while phase-2 is scheduled in May next year. The Commissioner Secretary directed to also collect the data regarding water quality, traffic volume and disasters etc. from the concerned authorities.
The Commissioner Secretary further discussed progress of construction of bus stops, water ATMs, roads & footpaths, slaughter house, drains and other development works in Kargil town. He instructed the DC Kargil for physical verification of all works in the town area and further underlined the need to identify dark areas in the town and install LED street lights there.
Commissioner Secretary Sahu further instructed the concerned officers to coordinate and work in unison to avoid any sort of duplication and disturbance in the execution of developmental works in Kargil Town.
Meanwhile, the Commissioner Secretary in a separate meeting with the Councillor Town Haji Muhammad Abbas, Ward Members of Municipal Committee Kargil and concerned district officers held detailed discussion on various developmental works in Kargil Town including construction of multi-story parking, traffic management, construction of bus stops, Master Plan 2050, construction of slaughter house among other projects.
The Commissioner Secretary underlined the need to execute all the major development works in Kargil Town in accordance with the Master Plan 2050. He further stressed that close coordination among the public representatives, Ward Members and officers will ensure  smooth and hassle free execution of projects on ground.
Meanwhile, the Ward Members projected demand for creation of a separate  engineering wing.