Cultural revival workshop & language awareness camp concludes at Balti Bazaar, Kargil
Shiekh Nazir lauds efforts of Ladakh Cultural Academy for cultural revival initiatives
Kargil, March 19, 2023: The week-long Cultural Revival Workshop and Language Awareness Camp jointly organized by LAHDC, Kargil and Ladakh Cultural Academy Kargil concluded today at Balti Bazaar, Kargil.
The closing ceremony was attended by Hojjatul Islam wal Muslimeen Sheikh Nazir Mehdi Muhammadi, President of Anjuman Jamiyat Ullama Isna Ashriya Kargil (AJUIAK) as chief guest and Nazir Hussain, Deputy Secretary, Ladakh Academy of Art Culture and Languages (LAACL), Kargil, as the guest of honour along with other dignitaries.
The initiative was aimed to revive the old cultural heritage of Kargil, Ladakh by promoting cultural awareness and language preservation. During the closing ceremony, Sheikh Nazir Mehdi Muhammadi emphasized on the importance of preserving the rich culture and language of Kargil. He highlighted the significance of the Balti Language and its importance in today's world, especially for the younger generation.
Muhammad Ali Ashoor, President of Balti Association in Himalayas, expressed happiness over the participation of trainees from different age groups and asserted the importance of cultural preservation and communal harmony.
He appreciated the UT Administration and Ladakh Cultural Academy for their commendable job in preserving and exploring tangible and intangible cultures across different corners of the district.
Nazir Hussain, Deputy Secretary, LAACL Kargil, stated that the LAACL and Hill Council, Kargil, are committed to making all concerted efforts for the promotion and conservation of the rich cultural heritage of Kargil according to the uniqueness of Kargil, Ladakh.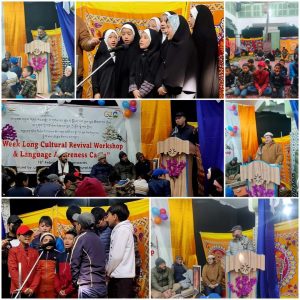 Other prominent personalities who were present on the occasion include Padma Shri Akhone Asgar Ali Basharat, Senior citizens, Akhone Mohd Ali, Muhammad Sadiq Hardass, Aga Sayed Raza Rizvi, Akhone Mohd Ali Suboour, Haji Hamid Hor, Shamim Lchangra, Mohd Asgar Lchangra, Bashir Wafa, workshop instructors, trainees and cultural enthusiasts also attended the event at Hardass.
During the closing ceremony, a few workshop trainees of Hardass presented their performance and group-based performance that enthralled the audience.
The week-long camp witnessed almost 30 participants and four experts were engaged for the workshop. The event concluded on a positive note, and it is hoped that such initiatives will continue to boost the traditional rich cultural heritage of Kargil, Ladakh.
In the end of the event, cash prizes and certificates were distributed among all the participants by the chief guest and other dignitaries.
The closing ceremony program was conducted by Sibte Hassan Kaleem and Haji Hamid Hor, Vice President Hussaini Community, Balti Bazaar, Kargil, presented vote of thanks. He expressed gratitude to the resource persons, instructors, stakeholders and people of Balti Bazaar for making the event successful.