DEO conducts awareness camp on Voter ID and Aadhar linkage
Leh, Aug 24: The District Election Office, Leh organised an awareness camp on Voter ID and Aadhar linkage, an initiative of Election Commission of India under SVEEP activities, at Eco Park, Leh.
Secretary, Election Department, UT Ladakh, Padma Angmo presided over the event.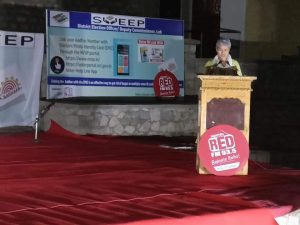 Secretary Padma Angmo highlighted the important role that youth could play in making such awarenss camp successful with their active participation. She added that linking of Election Photo Identity Card (EPIC) and Aadhar is a great initiative which would restrict impersonation of voting and ensure authenticity.
Secretary Padma Angmo congratulated the District Election Office and SVEEP team for organising such an awareness programme with active participation of youths.
She also stressed on achieving 100 percent enrollment of all the eligible voters.
Deputy Commissioner, Leh, Shrikant Suse briefed about the two major initiative of ECI under SVEEP, including the linking of Voter ID and Aadhar and the Special Summary Revision.
He added that voter ID and Aadhar linkage would eradicate duplicacy and bogus voting. He shared the easy measures available for linking of EPIC and Aadhar by visiting voter helpline app or nvsp portal or voter helpline number.
Further he said that Special Summary Revision with different qualifying dates would ensure higher enrollment of eligible voters.
He also informed that under SVEEP election clubs have been formed at school and collges to spread awareness about SVEEP activities.
DC Leh urged the public to be a responsible citizen and a voter by participating in the ECI initiatives.
Various musicial and cultural performances were showcased during the event.
Officers and officials of District Election Office; Nodal Officer, SVEEP activities; other concerned officers/officials and public were present.