Dept of Cooperative, Ladakh celebrates 69th All India Cooperative Week
Leh, November 17: The Department of Cooperative UT, Ladakh celebrated 69th All India Cooperative Week, 2022 (14-20th November 2022) today at the Conference Hall, DC Office which was presided over by Secretary Cooperatives, UT, Ladakh Ravinder Kumar; Hon'ble Executive Councillor, LAHDC, Leh, Ghulam Mehdi and Deputy Commissioner/CEO, LAHDC, Leh, Shrikant Balasaheb Suse, The program was attended by the Officers /officials from the Cooperative Department, Leh, and member representatives from various Cooperative societies of the district.
Secretary, Cooperatives, Ladakh, Ravinder Kumar while addressing the gathering highlighted the role of cooperative societies in the economic development of the farmers associated with the primary sector and applauded the activities being carried out by the cooperative societies in Ladakh. He further said that with the creation of a separate Ministry for Cooperation, the sector will receive further impetus. Further the Secretary suggested preparing plans for providing training/capacity building and exposure tours for the society members and departmental officials to acquaint them with the best practices followed in other major cooperative sector states for adopting those practices in Ladakh. He further said that the centrally sponsored scheme for computerization of Primary Agriculture Credit Cooperative Societies at the village level will help in better record keeping and will pave the way for better market linkage outside Ladakh.
In his opening remarks, the Hon'ble Executive Councillor, LAHDC, Leh Ghulam Mehdi complemented the Cooperative Department and Cooperative Societies of Ladakh for the role they play in the development of various primary sectors and said that with the adoption of the Ladakh Organic Development Initiative, the local produce of Ladakh with the organic brand will fetch a better price.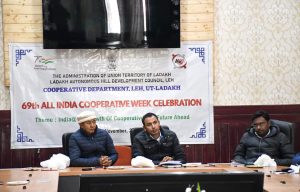 The Deputy Commissioner, Leh congratulated the department and societies on the occasion of the celebration of cooperative week, 2022 and said that the Cooperative Societies have been playing an important role in Ladakh, be it providing essential items at reasonable prices, bulk stocking of essential items for winter, marketing local produce and ensuring all his support to the cooperative societies and department of Cooperative.
A few of the members from different Cooperative Societies shared their views and issues being faced by them which were heard and assured of all support from the dignitaries.
Earlier welcoming the dignitaries and participants, the Deputy Registrar of Cooperative Societies Leh, Dr Mohd Abass, briefed the gathering about the theme of celebration of Cooperative Week, 2022 and highlighted the major achievements and infrastructural development in the Cooperative sector of the district after the formation of UT. Further, he proposed to organize Cooperative week on a larger scale in the future for better awareness and development of the Cooperative Sector.