DIET Kargil organizes concluding session of winter training program
Kargil, March 07, 2023:
District Institute of Education and Training (DIET) Kargil today organized the concluding session of winter training program and launched its magazine at Conference Hall Baroo.
Chairman/CEC, LAHDC, Kargil Feroz Ahmad Khan was chief guest, Director School Education, Ladakh, Dr Safdar Ali was the guest of honour, Joint Director, Information/Additional Secretary Higher Education, Ladakh, Imteeaz Kacho was the special guest, CEO Kargil, Mushtaq Ahmed, ZEOs, Principals of various government and private schools, teachers and trainees were present during the concluding ceremony.
On the occasion, the CEC congratulated DIET Kargil for organizing winter training program for teachers. He said DIET Kargil is the backbone of the education system in Kargil and aims to impart skills and training to teachers.
Khan also congratulated the DIET for launching the annual magazine. He said it is important to highlight the achievements of the departments in the respective field and should be visible to the general public.
The CEC hailed the efforts of DIET Kargil for imparting various training sessions to upgrade skills of teachers in the district which will benefit the student community at large.
Regarding allotment of land for the construction of DIET building, Khan said LAHDC Kargil in consultation with District Administration will identify suitable land on priority.
Khan said in the past two years, Kargil has witnessed tremendous change in the education system, especially in government schools.
The CEC hailed the effort of teachers for doing their job with utmost sincerity and honesty. He also hailed community participation in schools.
CEC Kargil requested Director School Education, Ladakh to seek technological interventions in terms of making transfer policy transparent along with digitization of attendance of teachers in schools.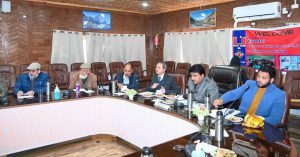 Director School Education, Ladakh Dr Safdar Ali said for the infrastructure development of DIET in both the districts of Ladakh, Rs 20 cr (10 cr for each district) has been sanctioned. He said once the land for DIET building is identified, the construction work will be stared.
Regarding the shortage of manpower, Dr Safdar said a tender has been floated and the recruitment will be conducted on outsourcing basis as soon as possible.
He also said that with the recruitment, Block Resource Centres (BRCs) and Cluster Resource Centres (CRCs) will also be activated.
Dr Safdar stressed on teachers to achieve the target set under the New India Literacy Program (NILP) introduced by the Ministry of Education, Government of India.
He also stressed on teachers to monitor the learning outcome of the National Initiative for Proficiency in Reading with Understanding and Numeracy (NIPUN) Bharat.
While highlighting the importance of education, Joint Director, Information/Additional Secretary Higher Education, Ladakh, Imteeaz Kacho said education is the only way forward for the upliftment of any society.
He congratulated DIET Kargil for time and again organizing training sessions and workshops. He hailed teachers for rendering their noble services for the development of society.