Abass ALi
Editor.
Director Industries & Commerce Ladakh visits Zanskar, conducts awareness programme
KARGIL, AUGUST 21, 2021: Director Industries and Commerce UT Ladakh Moses Kunzang during his visit to Zanskar sub division held an awareness programme at Conference Hall Dak Bungalow Padum here today.
The campaign was aimed to impart awareness to the public representatives, students, members of self-help groups and general public about various schemes initiated by the Department of Industries and Commerce.
The Director informed on the occasion that according to PMEGP/PMFME schemes, up-to 25 lacs subsidized loans will be provided to the unemployed youths who are willing to establish small scale industries or businesses.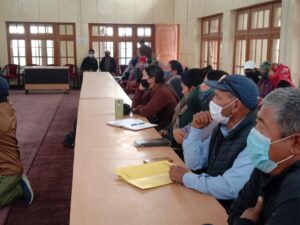 Director Moses Kunzang further said that proper marketing, advertising and packaging of yak dairy, yak wool products, sea buckthorn and medicinal plants in the sub division will be done by the Industries and Commerce Department which would be instrumental in generating sources of income for the unemployed youths.
The Director said that under Handicraft and Handloom sectors where at present only 4 kinds of skill trainings are being provided in the sub division will be increased to 8 in the coming months. He further informed that the products of Zanskar if proved to be of good quality will also be exported to places outside Ladakh like Delhi, Mumbai and Chennai for exhibition cum sale of these products.
The public representatives on behalf of the general public of the sub division appreciated the Director Industries and Commerce for personally visiting Zanskar and requested him to conduct more such training and awareness programmes in future.