Abass ALi
Editor.
EC Mohsin Ali distributes free edu tabs under Yountab Scheme 2021
KARGIL, AUGUST 21, 2021: Executive Councilor for Health Mohsin Ali distributed free educational tablets among the students of class 9th to 12th at Government Higher Secondary School Chiktan here today.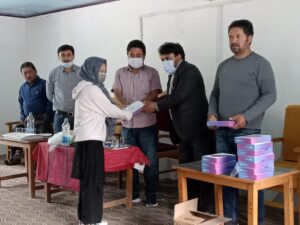 Principal Government Higher Secondary School Chiktan Mahfouz Ali Khan, staff members and students were present during the distribution ceremony.
The free educational tablets have been provided to the students under Ladakh Zgo Zgoa Yountan Yountab Scheme 2021 by the Department of Education UT Ladakh.
While addressing the students and staff of the institution, EC Mohsin Ali stressed the students to get the maximum benefit of the tablets.
The tablets are fully pre-loaded with all required contents of each subject according to the syllabus.