Director RD&PRD chairs review meeting regarding various schemes
Kargil, Nov 29, 2022: Director Rural Development Department and Panchayat Raj Department (RD&PRD) UT Ladakh, Tahir Hussain Zubdavi today chaired a review meeting regarding various schemes of the department at Conference Hall Baroo.
Assistant Commissioner Development (ACD) Ghulam Mohammad, District Panchayat Officer (DPO) Padma Angmo, Executive Engineer REW Shabir Hussain, BDC Chairpersons, BDOs, AEEs and JEEs of REW Department, President Panchayat Coordination Committee and Executive Members besides other concerned officers and PRI members attended the meeting.
During the course of meeting, the director took a detailed work-wise physical and financial progress achieved under different schemes like SDP, State Sector CAPEX Budget, BDC Grant works, grant in aid program, SBM program and MGNREGA.
While appreciating the progress achieved by the department in executing developmental works in some areas of the district, he stressed on officers and PRI members to work in close coordination with village Sarpanchs and Panchs to complete the remaining works before the working season closes.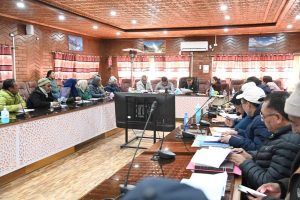 The director RD&PRD was dissatisfied over the delay in some works related to DPR preparation and late allotment of works. He said a committee will be constituted soon to see to look into the delayed works.
He directed PRI members to prepare a plan of the next year developmental activities in advance in coordination with Sarpanchs and Panchs so that developmental works could be executed on time in the next working season.
Zubdavi also suggested PRI members to include sustainable and long-term employment generation developmental plans in the next financial year plan so that youth get employment benefits during the developmental activities.
He directed the concerned officers to blacklist contractors who compromise on quality of material. He also directed to blacklist contactors who don't complete works on time.
The Director stressed on BDC chairpersons to hold monthly review meeting with the respective BDOs in order to monitor the developmental works in their respective areas.
During the meeting, the concerned issues of BDCs regarding developmental activities in their respective areas were also resolved.