Orientation program on fire safety, security held at GHS Minjee
Kargil, Nov 29, 2022:
UT Disaster Rescue Force in collaboration with Yakland Enterprise today organized an orientation program on fire safety and security at Govt. High School Minjee, Kargil.
Incharge UTDRF Team Kargil, Iftikhar Hussain and Jaffer Khan of Yakland Enterprise, Headmaster GHS Minjee, Zarina Batool, teachers, and students were present on the occasion.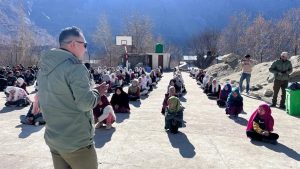 During the program, Iftikhar Hussain gave a brief introduction about the program and explained the mitigation steps in case of any fire incident. He advised the school administration to install firefighting equipment as a precautionary measure.
Later, Zarina Batool thanked all the participants, especially Iftikhar Hussain and Jaffer Khan for organizing such an informative program for teachers and students.