District Administration Kargil establishes shelter camps for stranded passengers, laborers at Kargil, Drass
KARGIL, OCTOBER 24, 2021: In order to facilitate the stranded laborers and passengers in Kargil in the aftermath of the recent sudden snowfall, the District Administration Kargil has set up temporary shelter camps with heating facilities at Kargil and Drass today.
More than 300 stranded laborers and passengers have been accomodated in these shelter camps which have been set up at the 300 Bedded Hospital Kurbathang Kargil and Dak Bungalow Drass where appropriate arrangements for their shelter, food and medical facilities have been made.
Nodal officers have also been appointed to ensure that the functioning of these temporary shelter homes remain hassle-free.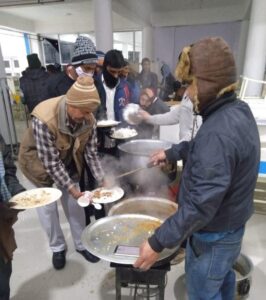 Meanwhile, the stranded passengers and laborers have expressed gratitude to the District Administration Kargil for establishing the shelter camps for their facility.