Div Comm Ladakh Biswas assesses relief work of flash flood at Kargil
Directs to speed up relief and restoration process
Leh, Aug 22: Divisional Commissioner Ladakh & Secretary Disaster Management Relief, Rehabilitation, and Reconstruction Saugat Biswas convened a meeting to assess the pace of relief and rehabilitation work after the recent flash floods in the Kargil district.
Div Com Biswas, after a detailed discussion, gave directions to Deputy Commissioner Kargil to ensure proper expenditure of the released funds under the Management of Natural Calamities and ensure proper utilisation of government machinery with the Mechanical department.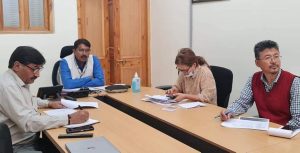 He also gave directions to the concerned departments to provide a Tehsil-wise plan of action, temporary and permanent restoration work done by various departments to date, estimated cost, and status of work among others.
For the relief work, Biswas gave directions for the compilation of the Tehsil-wise beneficiaries list and stressed for distribution of the funds for the areas where assessments have been completed.
Secretary Saugat Biswas stressed the fact that those in distress and trouble are to be sent teams for assessment and provide the required help at the earliest. He further gave directions to all the concerned departments to speed up the pace of execution of temporary as well as permanent restoration at the earliest.
The meeting was attended by Deputy Commissioner Kargil Santosh Sukhdev, Chief Engineer PWD, ADC Kargil, ACR Kargil, SDMs of Drass, Sankoo, Shakar Chiktan, and Zanskar, Executive Engineers of all engineering departments, and concerned officers of Kargil and Leh.