DLSA Kargil observes National Voters' Day
Kargil, Jan 25, 2023: District Legal Services Authority (DLSA), Kargil today observed the National Voters' Day 2023 in District Court Complex Kargil.
The program was attended by Bar President, Reyaz Ahmad Khan and other bar members, staff members, PLVs, litigants and the general public.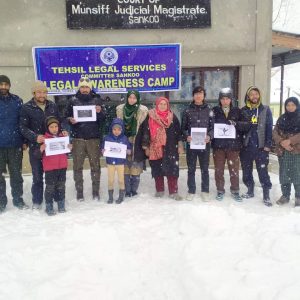 The program was chaired by Secretary DLSA, Kargil, Phuntsog Angmo, who spoke about the importance of observance of the National Voters' Day.
On the occasion Advocate, Reyaz Ahmad Khan conducted the program proceedings. APP Tsering Phuntsog, Advocate Shan Hydari, Advocate Mohammad Saleem and Advocate Sayeed Hadi also spoke extensively about the various important aspects of the rights of voters and about significance of the day.
Further, the TLSCs Sankoo and Zanskar also observed the day at court premises where staff members, PLVs and local people of the areas were present.
TLSC, Drass, observed the day at Shara Coaching Centre, Chowkiyal, Drass where faculty members and students were present in the said program.