Dr Shekhar C Mande DG CSIR, Secretary DSIR chairs meeting with officers, officials in Kargil
KARGIL, OCTOBER 07, 2021:Director General of Council of Scientific and Industrial Research (CSIR), India, and the Secretary of Department of Scientific and Industrial Research (DSIR) Dr Shekhar C Mande today chaired a meeting with district officers and officials and discussed several measures for economic upliftment of the region.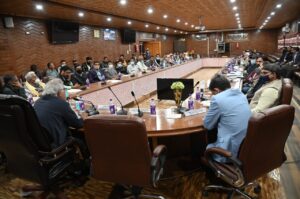 During the course of the meeting, Dr Mande said CSIR has taken several measures for  upliftment of the region in different sectors including agriculture, horticulture and industries. He said aim of the Kargil initiative is that farmers should get benefit and their produce should reach to market in order to make them economically viable and CSIR has many initiatives for farmers including plantation of trees.
Dr Mande assured the farmers and entrepreneurs that scientific and technological advisory and support would be provided for further expansion of the crops, their processing, value addition and marketing to achieve self-sufficiency. He further emphasized the need for integration of apiary with aromatic crop production for maximizing farm productivity and profitability.
The officials who attended the meeting included Shahid Rasool Senior Scientist/ Nodal Scientist CSIR Ladakh Initiatives, Dr D S Reddy Director CSIR-Indian Institute of Integrative Medicine, Jammu, Dr Sanjay Kumar Director CSIR-Institute of Himalayan Bioresource Technology, Palmpur, Dr Vibha Malhotra Sawhney Head Technology Mission Directorate, CSIR Headquarters, New Delhi, Dr Mahendra P Darokar Chief Scientist TMD CSIR Headquarters New Delhi, Dr Zabeer Ahmed Head CSIR- Indian Institute of Integrative Medicine (Br) Srinagar besides other concerned officers.
Officers and officials of agriculture department, animal husbandry department, fisheries, scientists from SKUAST Kargil, entrepreneurs, farmers, businessmen and Sarpanchs were also present in the meeting.
Shahid Rasool, Senior Scientist/ Nodal Scientist CSIR Ladakh Initiatives said they have started some projects in Kargil and have also identified key sectors like agriculture and industries for benefit of the local people.
Dr Sanjay Kumar, Director CSIR-Institute of Himalayan Bioresource Technology, said there is potential for hing cultivation in Ladakh.He discussed measures for the economic upliftment of farmers and also informed about several schemes beneficial for farmers' economy and value edition.
Dr Sanjay said Ladakh has a huge potential for crop production and quality is must for the crop to prosper. He said people should take benefits of whatever land is available.
Chief Agriculture Officer (CAO) Kargil Kacho Muhammad Ali Khan briefed the meeting about different measures being taken by the department for the upliftment of farmers.
He highlighted need of survey for aromatic plants and also briefed about agriculture activities, crops and several schemes available for farmers.
Meanwhile, district officers and scientists suggested for the growth of leather  production in Kargil region. They also stressed on growth of endemic species in Kargil for generation of employment.