EC Mohsin Ali flags off progressive farmers for exposure tour to J&K UT 
KARGIL, OCTOBER 09, 2021: Executive Councillor for Agriculture Mohsin Ali flagged off group of progressive female farmers from Kargil for exposure tour in  of J&K UT from Indira Park Baroo here today.
The group consists of 70 female farmers who will be trained in innovative technologies in farming adopted in UT of J&K.
The tour is being conducted as a part of the series of events under Azadi Ka Amrit Mahotsav.
District Chief Agriculture Officer Kargil Kacho Muhammad Ali Khan, officers and officials of Agriculture Department besides  progressive farmers were present on the occasion.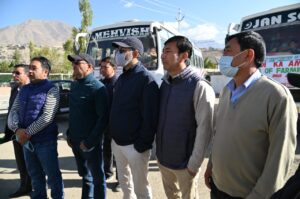 Addressing the progressive farmers EC Mohsin urged them to take full benefit from the exposure tour. He said that the department has chosen female farmers for the exposure tour because they are more involved in farming activities.
EC Mohsin exhorted upon the farmers to learn new techniques and innovations in farming and contribute back to the society in making Kargil an organic district in  farming. He further informed that the LAHDC Kargil is making concerted efforts to make Kargil a 100 percent organic district.
Pertinently, the current group is the third group of 70 farmers who have been chosen for exposure tour while the first two groups have already visited District Leh in the recent past.