World Mental Health Day observed in Kargil 
CEC Feroz Khan stresses for responsible parenting in dealing with mental helath issues
KARGIL, OCTOBER, 08, 2021: Chairman and Chief Executive Councilor LAHDC Kargil Feroz Ahmad Khan attended the World Mental Health Day programme on the theme 'Mental Health In An Unequal World' organised by the Mental Health Department District Hospital Kagil in collaboration with the Department of Psychology, Government Degree College (GDC) Kargil at Auditorium Hall Kargil here today.
Executive Councillor Health Mohsin Ali, Additional Deputy Commissioner (ADC) Kargil Tsering Motup, Registrar University of Ladakh Imteeaz Kacho, Chief Medical Officer (CMO) Kargil Dr Munawar Hussain Wazir, Director Kargil Campus Ladakh University Kaneez Fatima, Principal GDC Kargil Amina Qari, Nodal Officer Mental Health Department District Hospital Kagil Dr Fatima Nissa besides other concerned officers, students and good number of civil society members were present on the ocassion.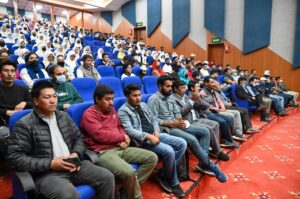 Addressing the gathering, CEC Feroz Ahmad Khan said that to remain confident and mentally healthy is key to success. He urged students to keep flexibility about their targets and goals, adding he said that  inability to achieve fixed targets can sometimes affect their mental health and stressed for a flexible approach in dealing with their career goals.
Khan said that parenting is an important aspect when it is about the health of children. He said that parents need to be more friendly so that their kids can share their thoughts with them thus reducing  chances of stress.
The CEC stressed that at rural level awareness related to mental health is necessary and in this regard theatre and other related activities can become vital tools in spreading awareness. He said that LAHDC Kargil will extend all possible support to the initiatives related to awareness and promotion of mental health within the district.
Executive Councilor Health Mohsin Ali in his address said that the event has proved helpful to know about the importance of mental health. He appreciated the organizers for oberving the day for spreading awareness about mental health.
ADC Tsering Motup in his address stressed on more awareness at rural level and said that it was a great learning experience and the organisers should continue such programmes in future as well.
Meanwhile, Clinical Psychologist Zakir Hussain, Research Scholar Syed Hassan Shah, Vijdan Hyder and Nissa Fatima gave presentations on various aspects of mental health while a play on mental health was also presented by Ranthaq Theatre Group followed by and a song on mental health by the students of GDC Kargil.