EC Mohsin attends sheep show at Chiktan
Kargil, March 19, 2023: Executive Councilor Health, LAHDC, Kargil Mohsin Ali today attended Sheep Show-Cum-Seminar organized by Sheep Husbandry Department, Kargil under National Livestock Mission (NLM 2023-24) at Shagaran, Chiktan.
On the occasion, Director Animal/Sheep Husbandry and Fisheries Department, Dr Mohd Raza Abassi, District Sheep Husbandry Officer, Kargil, Dr Niyaz ul Hassanain, Chief Animal Husbandry, Kargil, Dr Mohd Ismail, Incharge Police Post Chiktan, Sarpanch, Panch, Nambardars, resource persons from allied departments were present.
The EC appreciated the role of Sheep Husbandry Department Kargil in organizing the camp at Chiktan and lauded the department for implementing beneficiary-oriented schemes.
Mohsin also informed about the Subsidy Component of LAHDC, Kargil and also informed about the achievements. He asked for suggestions from villagers for making them financially independent through various subsidy components.
The EC on behalf of his constituency congratulated Director Animal/Sheep and Fisheries Department Dr Mohd Raza Abassi and wished him good health, prosperity and success in the future.
Abassi said that after Ladakh became Union Territory, there is a flow of funds for the people and which is utilized well for the larger interest of the general public.
The outgoing officer thanked the department for inviting him and also urged to take the privilege of Animal/Sheep Husbandry, Fisheries Department schemes. He also threw light on the achievement of the allied departments.
Dr Niyaz ul Hasnain briefed the participants about the achievements and schemes of the department and advised them to take benefit from the schemes to increase the livestock population. He said the livestock sector has the potential to push the economy of rural areas.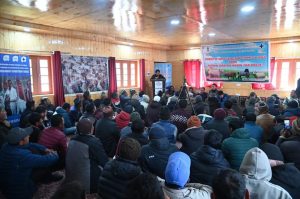 While talking about the NLM, the District Sheep Husbandry Officer said the department has planned to organize such programs under NLM at every Block in the future.
He advised breeders (having Karakul breed) to look after the breed in order to increase its population in the district. He said the department is committed to increasing livestock and is providing the best quality feed and fodder to beneficiaries.
Chief Animal Husbandry Kargil also spoke on the occasion and highlighted the role of the Animal Husbandry Department and how to take care of animals in case of diseases.
He also informed that the department is providing veterinary ambulance for the care of animals at the doorsteps of people. The doctors and experts from other departments also delivered lectures as resource persons on different topics to the participants.
The department awarded 1st, 2nd and 3rd prizes in different categories of livestock. In addition to this, 36 consolation prizes were also awarded. The PRIs thanked the department for its efforts and requested to conduct more such camps in the future also.