EC Mubarak Shah meets cricket sensation Maqsuma Bano at GHS Kaksar
Kargil October 22, 2022:
Executive Councilor for Works, LAHDC, Kargil, Mubarak Shah Naqvi on Friday met Maqsuma Bano Kargil's cricket sensation at Government High School Kaksar.
During the visit to GHS Kaksar, the EC along with Social Activist Sajjad Kargili and Sarpanch Kaksar met the young cricketer Maqsuma Banoo. They appreciated for her spirit and encouraged her. The EC while appreciating the dedication of the young girl advised her to keep her morale high in future endeavours.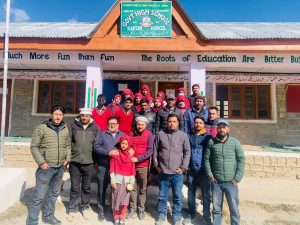 EC Nagvi and Sajjad Kargili also appreciated the headmaster and other staff members of GHS Kaksar for their contribution at Border School. They said that such teachers are real examples of future makers.
In the end, Headmaster Akhtar Hussian requested the EC to sort out various issues of the school and the EC assures to fulfill all the demands at earliest.
EC also visited the Airtel mobile tower and inspected its work progress. He instructed to complete the tower as soon as possible.