EC Tashi inspects developmental work sites in Zanskar
Kargil, October 29, 2022:
Executive Councilor, Tourism, RD and Zanskar Affairs Er. Punchok Tashi today visited ice skating rink at Munki Chumik Pipiting.
While inspecting the ice skating rink, he directed the concerned department to prepare for remaining component works such as visitor gallery, changing room, approach road and public convinence which could be projected as desired by Secretary Sport during his recent visit.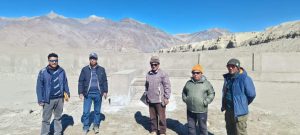 The EC also directed to complete the remaining works before the winter sport festival 2023. The rink was got completed by PWD department at an estimated cost of Rs 75 lakh under District Capex budget.
Tashi also inspected Multi Purpose Hall construction at Kishrak village as well as community cremation ground at Pipiting being executed by Rural Development Department Zanskar.
Engineers from PWD and Rural Engineering Wing also accompanied the EC during the visit.