Five-day training on reading proficiency under NIPUN Bharat concludes at DIET Leh
Leh, Oct 29: The five-day training on Jolly Phonics focusing on reading proficiency, organised by the District Institute of Education and Training (DIET), Leh, for the government school teachers concluded today at DIET Leh. The training organised under NIPUN Bharat Mission aims to achieve foundational literacy and numeracy skills by 2026-27 by the time a child enters third grade.
Principal DIET Leh, Tsetan Dorjey, was the chief guest of the concluding ceremony. He assured that, during the winter vacation, all the primary school teachers would be trained in Jolly Phonics and other languages. Adding that the action plan for winter training is in progress, Principal DIET Leh sought suggestions from the teachers to make the exercise more effective.
Shanaz Jussa, an International Professional Trainer on Jolly Phonics, was the resource person engaged for the training. Addressing the gathering, Shenaz Jussa expressed her willingness to help the children of the government schools and consented to carry forward the activity on jolly phonics in the winter months, covering all the govt schools of the Leh district.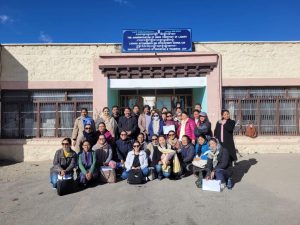 The training aimed to enhance the professional competency of teachers posted in far-flung areas of the Leh district and was specially organised for the teachers teaching from primary to Class 5th in far-flung places.
Around 30 teachers from six blocks of Leh district and the English faculty of DIET Leh participated in the training.
This training was part of the master activity calendar under NIPUN Bharat and quality intervention released by the Directorate of School Education, UT Ladakh.