Mohd Hadi from Sankoo Kargil won Silver medal at Senior National Pencak Silat championship 2022
Senior and Master National pencak Silat championship 2022 held at Sher Kashmir Indoor Stadium, Srinagar.
A Total number of 09 players from Ladakh participated in various weight categories .
Around 34 teams and 900 participants participated all over the India.
Mohd Hadi Son of Mohd Ali from Sankoo Kargil won Silver medal in Under -60 category.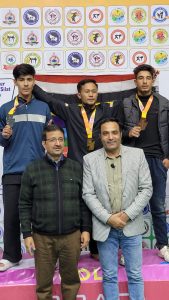 Final was between Manipur V/S Ladakh.
Team was escorted by coach Shanaz. Coach and player want to thanked Ravinder Kumar Dangi Sports Secretary UT Ladakh and Tsering Tashi DYSSO and request administration to support players and association in future as well.
The event was organised by Pencak Silat Association of J&K under the Banner of Indian Pencak Silat Association and sponsored by J&K Sports Council.