Kargil,Ladakh.
TTM students of the GDC Drass were on educational tour at kargil. They visited "THE HOTEL KARGIL and MUNSHI AZIZ BHAT MUSEUM" there. At least 50 students from 2nd and 4th semesters were present at this educational tour. Firstly the students visited "THE HOTEL KARGIL" a warm welcome was given by the whole staff of the hotel. Full briefing about the hotel was given by Manager of the hotel.
The students were oriented by the Housekeeping and Front Office Managers of their hotel operations. They were also allowed to visit the back of the house offices and operations of the hotel establishment which are not seen by the regular hotel guests such as the Housekeeping Department, where they appreciated the sanitary practices of the establishment in ensuring the linens, uniform, and guest clothes are properly washed, ironed, and kept or delivered; personnel canteen where the employees were provided free meals; and Human Resources Department where the students saw the training area for the employees. They also visited selected guestrooms of " THE HOTEL KARGIL" where they were welcomed by the room attendants who taught them of the hotel's bed making procedures.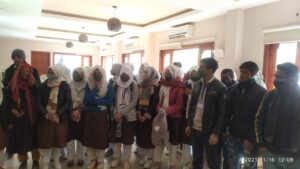 Later on the students of the college went to the museum of Mr Ajaz Munshi who gave the full briefing of the museum to the students. Students were connected to the History of the Kargil. They saw various historical artefacts of Kargil, leh, Kashmir, China, Turkey and Tazakistan.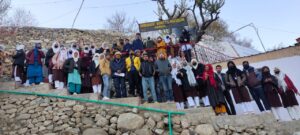 At the end Mr Suhail Ahmad Bhat (HOD TTM) GDC Drass thanked to the whole staff of the hotel (THE HOTEL KARGIL) and Mr Ajaz Munshi sahab ( Curator) Of the Museum. Mr Suhail Ahmad also thanked to the principal GDC Drass Dr Amjad Ali Abbasi for organizing such a great informative event.