EJM College in collab with IIT Jammu organise special lecture session
Leh, Dec 14: Department of Geography, Eliezer Joldan Memorial College, Leh in collaboration with Department of Bioscience and Bioengineering, IIT Jammu organised a special lecture session today.
The session was presided over by Principal EJM College, Dr Sameena Iqbal and Head Department of Geography, EJM College, Dr Sayed Mustafa Kamal presented the welcome address.
The key speakers for the session, including Prof. R. Uma Shankar, Prof. Suresh Devasahayam and Dr. Sahil Kalra talked on a range of topics viz-a-viz "Evolution of Territoriality: Unravelling Rivalry", Thermometry and Thermal Management of Living Spaces", "Solar Photovoltaics, Power Storage and Renewable Energy", and Shape Memory Alloy Materials and their Applications to Engineering.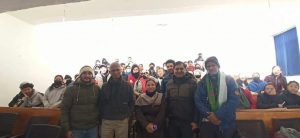 Acknowledging the success of the lecture session, Rabskit Dolma student of 6th semester delivered the vote of thanks to the keynote speakers and attendees.