FCS&CA Kargil organizes awareness program on fortified rice at Sankoo
Kargil, Dec 19, 2022:
The Department of Food, Civil Supplies and Consumer Affairs (FCS&CA) Kargil today organized an awareness program on fortified rice at Dak Bungalow, Sankoo.
On the occasion, an official of FCS &CA Kargil, Mohd Yousuf Fokari said the department is making efforts to ensure the implementation of rice fortification to address malnutrition, anemia and micronutrient deficiencies.
He said Rice Fortification is a process of adding micronutrients like Iron, Folic Acid and Vitamin B-12, which is an effective, preventive and cost-efficient complementary strategy to address the challenge of anemia.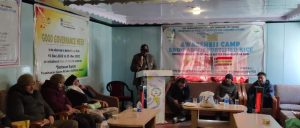 The program was attended by Lambardar, Sarpanches and Panchs from Kanoor to Panikhar along with officials of the circle.
The department of FCS&CA Kargil has been making efforts to organize various awareness programs in different areas about the benefits of consuming fortified rice.
Last year, Prime Minister Narendra Modi announced that all rice provided under food security schemes will be fortified with iron and folic acid by 2024.