Fire safety training held at New District Hospital, Council Secretariat Kargil 
Kargil, Dec 03, 2022: DDMA Kargil, UT Disaster Rescue Force, Fire and Emergency Services Kargil in collaboration with Yakland Enterprise today organized a fire safety drill-cum-awareness program for govt. officials and the general public at New District Hospital and Council Secretariat, Kurbathang Kargil.
At the New District Hospital Kargil, MD Yakland Enterprise talked about various fire safety mitigation measures and highlighted the importance of fire and emergency services. He also spoke about how to use fire extinguishers and explained the mitigation steps.
Later, the same training program was held at Council Secretariat Kargil, where Executive Councilor, Social Welfare Syed Mehdi Fazili, Joint Director Information Ladakh, Imteeaz Kacho, Superintendent Engineer, Abdul Mutallib, Accounts Officer, PDD, Sajjad Hussain, office bearers, multi-tasking staff beside other concerned officials were present.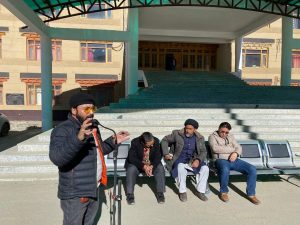 During the event, EC Fazily thanked District Administration Kargil and Yakland Enterprise for conducting such awareness camps and urged people to take part in such training programs. He hoped to organize such training programs in future as well.
On the occasion, the Joint Director Information Ladakh also thanked the District Administration for overall monitoring and suggested organizing such events once a week.
Regarding fire safety, Kacho said that such programs should be conducted at a large scale with the participation of public and other stakeholders.
He also detailed the measures to be taken in case of any eventuality adding that any system should be prepared and trained in advance.