GDC Drass celebrates World Tourism Day
KARGI, SEPTEMBER 27, 2022:
Department of Tourism and Travel Management, Govt. Degree College Drass today organized a special session for the students of tourism and travel management on the topic Rethinking Tourism" on the occasion of World Tourism Day.
The special session was held on the theme to Celebrate World Tourism Day by Assistant Professor (Dr.) Jahangir Ahmad Malik.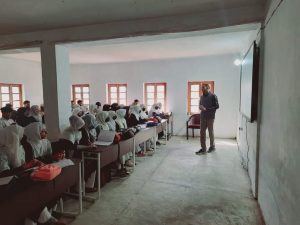 The session was started with welcome address by Dr. Talib Hussain, Assistant Professor Zoology. He presented an overview of theme of World Tourism Day and its relevance to tourism and hospitality sector in Drass region.
The speaker said that tourism industry has been hit hard during by the Covid-19 pandemic and livelihood of people depends on it.
He emphasized that locals and stakeholders in Ladakh should not lose their hope saying that future will offer many opportunities to all.
After the lecture, the students of TTM interacted with the speaker and asked several questions to which the speaker responded positively.
The program was held under the supervision of principal GDC Drass, Dr. Amjad Ali Abassi.
In the end, Assistant Professor (Dr.) Muhammad Ashraf Wani, presented the vote of thanks to the guest speaker.