EC Tashi visits various developmental sites in Zanskar
KARGI, SEPTEMBER 27, 2022: Executive Councilor Tourism, RD and Zanskar Affairs, LAHDC, Kargil Er Punchok Tashi today visited various sites of developmental work carried out by Zanskar Development Authority (ZDA) in Zanskar.
The completed projects are likely to be inaugurated by Chairman/CEC, LAHDC, Kargil during his tour to Zanskar on September 29 and 30 regarding Zanksar Festival.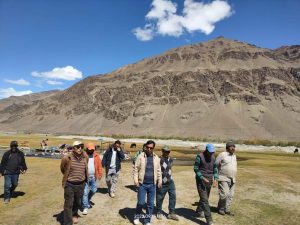 EC Tashi directed the concerned Exen R&B and his team to finalize the required work and keep ready for inauguration by the CEC. Exen R&B, ZDA, AEE and JEs of ZDA accompanied the EC during the tour.