GDC Drass organizes lecture on schemes for women, children in Goshan village
Kargil, Dec 01, 2022: Department of History Govt. Degree College Drass on Wednesday organized a lecture on policies and schemes for women and children in Goshan village under the broad theme "Women Empowerment and Children".
The program was organized under the guidance of Dr. Amjad Ali Abassi, Principal GDC Drass under Azadi Ka Amrit Mahotsav (AKAM).
On the occasion, Dr. Mohd Ashraf Wani, Assistant Professor History, highlighted the historical background of position of women in Ladakh with special reference to women of Goshan village.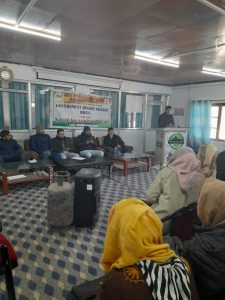 He explained the socio-economic structure of Goshan village especially the condition of women and children. He spoke about problems and challenges faced by the women and children based on his comprehensive survey and observational findings in the village.
Dr. Wani informed students about different schemes and policies regarding women empowerment and child development initiated by the government from time to time.
He also informed about ICDS scheme, educational scholarships and medical facilities provided for women and children by the government. He urged the students to take advantage of such schemes and also disseminate such information to the people of village.
Prof. Haider Ali Askari, Incharge Principal, concluded the session and spoke about role of women in society. He urged students to know about schemes related to women empowerment and child development and take benefit from these schemes.