Awareness program on gender equality held in Sodh block Kargil
Kargil, Dec 01, 2022: The Rural Development and Panchayat Raj Department Kargil today organized an awareness program on gender equality at Sodh block, Kargil.
The program was supervised by Assistant Commissioner Development (ACD) Ghulam Muhammad. Social Worker Special Cell for Women Police Station, Baroo, Kargil Haseena Batool, Administrator One Stop Center (OSC) Kargil,
Umul Banin, Sarpanchs, Panchs and members of Self Help Groups (SHGs) attended the program.
On the occasion, the ACD talked about the purpose of organizing such kinds of programs and role of the OSC in tackling gender equality issues in society.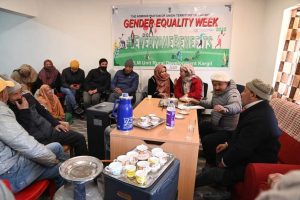 The ACD discussed various services for women like Special Cell, One Stop Center etc. He said women are subjected to inequalities in terms of liberty, legacies and other property rights and these services and awareness programs are needed.
Haseena Batool spoke about gender role in society and gender-based violence. She said violence is not only physical but it could be financial, mental etc.
Batool also shared some case studies regarding gender equality with participants and the threats faced by women so that they could relate to themselves.
Umul Banin explained the services of OSC where women can get shelter for five days in case they face any issues. She talked about the role of women in society.
In a threadbare discussion, Sarpanchs, Panchs and SHGs also shared their views regarding various aspects of gender equality-based violence.