KARGIL, JUNE 14, 2022:
Sankoo Campus of Govt. Degree College Kargil today observed its first World Blood Donor Day in collaboration with Community Health Centre, Sankoo at Conference Hall of the Campus.
The program started with a brief introduction of the resource person Dr Masood-Ul-Haq Medical Officer CHC Sankoo, and Dr Abid Hussain, Assistant Professor Sankoo Campus.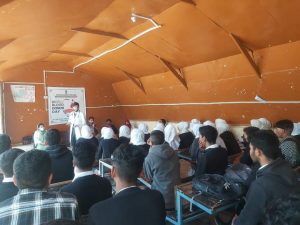 During the program, Dr Masood-Ul-Haq Medical Officer CHC Sankoo, gave a detailed presentation on the importance and procedure of blood donation. A blood group determination session was conducted in which more than 40 students' blood groups were determined.
A number of students got their names registered for donating blood at any required time. A question-answer session was also held in which students asked questions on blood donation.
Dr Ajaz Hussain Department of Chemistry and Dr Rajkumar Department of Education presented vote of thanks to the concerned doctors and technicians for making the blood donation camp successful.
The theme for this year's World Blood Donor Day is 'Donating blood is an act of solidarity. Join the effort and save lives.'