GDC Kargil students participate in Republic Day parade at Kartavya Path, New Delhi
Kargil, Jan 26, 2023: A girl students' group from GDC Kargil today participated in the mega Republic Day parade at Kartavya Path in New Delhi in the Nari Shakti Vande Bharatam group and brought laurels to the college.
This year's republic day has been very special for the college, be it the participation of an all-girls group in the folk dance or participation of four NCC cadets from the college at Kartavya Path Republic Day Parade or the participation of NSS volunteers of the college in the same. Thus, these students have brought laurels to the college.
Pertinently, this group has steered through the tough competition starting from Jammu. The event was organized by North Zone Cultural Centre, Ministry of Culture selected the group for competition at Jalandhar and then at New Delhi. In New Delhi, the group passed through the Grand Finale and was selected for participation in the Republic Day parade.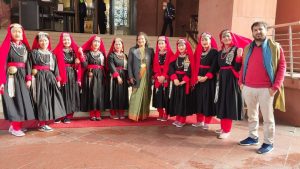 First time in the history of the college, four proud NCC Cadets participated in the National Level Republic Day parade. These cadets were selected among scores of cadets from Ladakh and J&K at Nagrota.
The National Services Scheme (NSS) Unit of GDC Kargil is proactive in its endeavors. This year's Republic Day parade in the national capital witnessed a couple of NSS volunteers from the college participating in the Kartvya Path Parade which is a pride moment for the college.
At the District level also, LAHDC, Kargil, recognized the unique efforts of Ladakh Craft and Skill Centre of the college and awarded the center with certificate of appreciation during the Republic Day celebration at Khree Sultan Cho Sports Stadium, Bemathang, Kargil.
The centre is the first of its kind striving for providing skill training in Ladakhi crafts and designs for its students. Principal GDC, Kargil and all staff members have congratulated these students for achieving the feat.