GHSS Padum Zanskar celebrates annual day, Gandhi Jayanti 
Kargil, October 02, 2022: Government Higher Secondary School, Padum Zanskar today celebrated annual day and Gandhi Jayanti.
The event was presided over by Executive Councilor Tourism, RD and Zanskar Affairs, Er. Punchok Tashi as chief guest, while Chhultim Chonjor Padma Shri awardee was the guest of honor. Executive Engineer PWD, Zonal Education Officer Zanskar, various heads of different departments and public representatives from Zanskar also attended the event.
The function started with welcome speech delivered by Vice Principal Thukjee Geleck. He extended warm welcome to guests and expressed his gratitude to them for attending the program. A number of cultural programs were presented by students which enthralled the audience.
Speaking on the occasion, EC Tashi said that all possible measures shall be taken to improve infrastructure of the school. He stressed on imparting vocational education to the students so that they become productive members of the society. He also stressed on educating students in modern agricultural practices.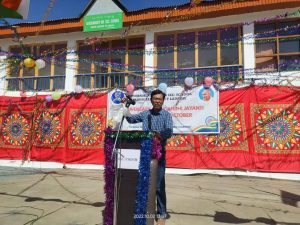 For the year 2022, the EC sanctioned Rs 20 lakhs out of CDF and District Capex to convert the school as a Council Model school.
Besides that Rs 20 lakh has been released under Capex for ground leveling. The EC also said that Boys and Girls Hostel has been approved by the UT Administration as well as building for Higher Secondary School Phey also stand approved.
He lauded the principal, staff and students of HSS, Padum Zanskar for their tireless efforts in changing the education scenario of Zanskar.
Speaking on the occasion, the Principal, HSS Padum presented the annual school growth report highlighting the regular academic and co-curricular activities organized during the current academic session.
On the occasion students who secured first, second and third positions were presented with awards. Certificates and prizes were also presented to the best performing cultural troupes. Stanzin Lamo conducted the program proceedings and presented vote of thanks.