Health Dept UT Ladakh & EESL signs MoU for energy efficiency & clean energy  
Leh, Sep 07: A Memorandum of Understanding (MoU) was signed between the Health & Medical Education Department, UT Ladakh and Energy Efficiency Services Limited, for providing energy efficiency and clean energy projects for Health Institutions, in the presence of Principal Secretary H&ME Dr. Pawan Kotwal here Tuesday.
The objective of the MoU is to create enabling framework for collaboration between the H&ME Department and EESL under the areas of mutual interest toward promotion of integration of Renewable Energy and Energy Efficiency technologies in buildings for achieving India's net zero target and towards carbon neutral Ladakh.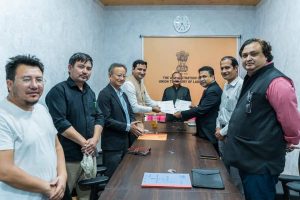 Under the programme, EESL will assist in formulating, coordinating, implementing, and monitoring a few pilot projects for the demonstration of Geothermal and Renewable Energy powered Heat Pump technology for space conditioning at selected pilot buildings under technical assistance.
Additional Secretary, Health & Medical Education, UT Ladakh Dr. Iftakhar Ahmed Chaudhary on behalf of UT Administration and Chief General Manager, EESL Mr Animesh Mishra on behalf of EESL signed the MoU.
Principal Secretary, Health & Medical Education, Dr. Kotwal termed this signing of MoU as another crucial step toward achieving clean energy and carbon-neutral Ladakh.
Highlighting the key proponents under MoU, Dr. Kotwal was apprised about the designing, developing, and supporting the implementation of viable Energy Efficiency and Renewable Energy pilot projects and scale-up of demonstrated technologies in the buildings of the Health Department of Ladakh.
Director Health, UT Ladakh Dr. Motup Dorjey, and concerned officers of H&ME and EESL were also present during the meeting.