ICDS Projects Kargil organizes workshop on welfare schemes
Kargil, September 10, 2022:
Integrated Child Development Services (ICDS) Project Kargil today organized a workshop on Poshan Maah, Poshan Vatika, Poshan Panchayat and other schemes of ICDS at Auditorium Hall.
Chairman/CEC, LAHDC, Kargil Feroz Ahmed Khan was the chief guest, Executive Councilor Social Welfare Agha Syed Mehdi Fazili, Programme Officer ICDS-Kargil Imteeaz Kacho,Assistant Commissioner Development Ghulam Mohammad, District Panchayat Officer Padma Angmo, Senior Scientist KVK-Kargil Dr. Mehdi, District Social Welfare Officer Agha Syed Jamal, District Horticulture Officer Ali Raza, CDPOs of Kargil,Shargole, Drass, Sanko and Shakar Chiktan, ICDS Supervisors and officials, PRI members and Anganwadi Workers were present during the day-long workshop.
On the occasion, CEC congratulated ICDS-Kargil for organizing the workshop for Anganwadi Workers and said it will be fruitful for them in the long run.
Khan stressed on the need to include local diet in the menu of Anganwadi Centres to ensure wholesome nutrition of children. He said local food items are rich in nutrients and fulfill the overall growth needs of children.
CEC Khan hailed the hard work of Anganwadi workers and termed them frontline workers who are always ready to serve the people.
Concerned over the salary issue of Anganwadi Workers, the CEC said LAHDC-Kargil has time and again raised the issue with the concerned authorities and the Council is expecting a positive outcome about the same.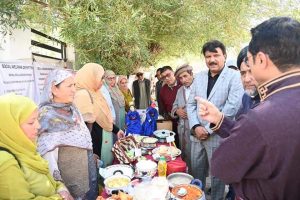 He said the provision of purchase of gas cylinder and stove for the Anganwadi Centres has been kept in the Plan.
While lauding the sincere efforts of Anganwadi Workers, Khan said LAHDC-Kargil will extend support for organizing exposure tours, orientation programmes, seminars and workshops for their better understanding and for upgrading their skills.
EC Fazili also highlighted the contribution of Anganwadi Workers especially during the COVID-19 pandemic and said that they have set a glaring example of their services. He lauded their selfless efforts and urged them to perform their duties with enthusiasm.
The EC also assured that LAHDC-Kargil will always support ICDS and Social Welfare Department as the two play a pivotal role in providing welfare to the people at their doorsteps.
Speaking on occasion, Programme Officer ICDS Kargil, Imteeaz Kacho said the workshop was aimed to spread awareness among Anganwadi Workers and PRI Members about various schemes. He added that the workshop is being organized under the guidance and direction of Director, Social & Tribal Welfare and the overall supervision of Commissioner/Secretary, Social & Tribal Welfare Department,UT Administration of Ladakh. He further thanked the Commissioner/Secretary for her constant support and valuable advise, at regular intervals, towards the smooth functioning of ICDS Projects of Kargil.
He said that the workshop was also meant to be a platform to interact with PRI members to understand ground realities in order to implement the welfare schemes more effectively.
Appreciating the hard work of Anganwadi workers in implementing various welfare schemes, the Programme Officer said their contribution in the department is remarkable.
While highlighting the issues of Anganwadi Workers and various other matters, Kacho said they have been placed before the authorities.
Dr.Mehdi Senior Scientist KVK Kargil also spoke about the optimum use of local organic products to maintain a healthy lifestyle.
He also briefed about various health benefits of local products and their nutritional values. He urged upon the participants to revive traditional eating habits for a healthy lifestyle.
Later, Officers of ICDS, Supervisors, Sarpanches and Anganwadi Workers also shared their experiences and put forth their suggestions. Powder Point Presentations were given by District Social Welfare Officer and CDPO-Kargil.
During the course of the event, a Poshan Pledge was also administered to the guests and participants. It was pledged that they shall take good care of the nutritional needs of their children and themselves, refrain from consuming junk food and aerated drinks while also pledging to promote healthy eating and remaining hydrated.