EC Mubarak Shah reviews winter stocking of essentials
KARGIL, SEPTEMBER 10, 2022: Executive Councillor for R&B, FCS&CA and Mechanical, LAHDC, Kargil Mubarak Shah Nagvi reviewed winter stocking of essentials like food grains, kerosene oil and LPG.
The meeting was attended by Assistant Director FCS&CA and TSO's of all concerned blocks of the district.
The meeting was informed that food grain stocking in snow-bound areas to be completed till ending November 2022 and food grain stocking and LPG is completely stored at Zanskar subdivision.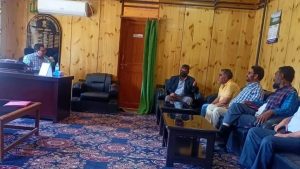 The meeting was informed that kerosene oil stocking is completed and the revised rate is yet to be approved from UT Administration. The CE directed the concerned officer to process issue with the concerned authorities immediately.
The EC directed the officer concerned to take up the LFSS scheme issues with the concerned authorities. The meeting was informed that installation of 4G POF device in place 2G POF device for smooth functioning of the POF device at all ration depots of the district.