Leh, April 12: Industries and Commerce Department, Ladakh organized a workshop with the Institute of Himalayan Bioresource Technology (IHBT) Palampur (Lab of CSIR) in Food Processing Technologies under One District One Product, medicinal plants and other produces of Ladakh. An expert team comprising three scientists from CSIR-IHBT, Palampur who are domain experts in various fields participated in the workshop.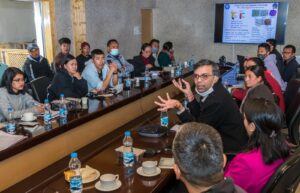 In his opening remarks, the Commissioner/ Secretary, Industries and Commerce, Ladakh Saugat Biswas informed that the purpose of the workshop is to identify gaps and requirements of the existing and budding entrepreneurs in the domain of food processing. He exhorted that the motto of the Industries and Commerce Dept is to assist people to develop business enterprises leveraging the local potential of Ladakh and to assist them to grow businesses at the national and international levels.
The UT Administration is implementing various schemes for the generation of self-employment and livelihood like the Pradhan Mantri Formalisation of Food Processing Enterprises (PMFME), Van Dhan Vikas Kendra (VDVK), NRLM, etc which can benefit from the value addition of an institution like IHBT- Palampur can provide, said Biswas.
The participants from DIHAR (DRDO), the Institution of Sowa Rigpa, and the Horticulture department of Ladakh made brief presentations about the potential and challenges that the food processing industry faces in Ladakh.
About thirty entrepreneurs participated in the workshop from both Kargil and Leh districts who shared their experiences, needs, and requirements with the experts. Discussions on processing technologies, storage, packaging, presentation, and marketing took place on a one-on-one basis with the domain experts from IHBT. Horticulture produces such as Apricot, Sea buckthorn, buckwheat, Zeera, medicinal herbs, cosmetic products, apricot oil, etc. were at the centre stage of discussions.
Various decisions were taken regarding DPR preparation, technology transfer, capacity building, exposure visits for entrepreneurs and Self-Help groups during the workshop.
The Commissioner/ Secretary, Industries, Ladakh felicitated the experts from IHBT viz. Dr. Mahesh Gupta (Principal Scientist, Food Science & Technology), Dr. Dinesh Kumar (Senior Scientist, Natural Product Chemistry & Development of Herbal, Medicinal, & Sea Buckthorn products), Dr. Vidyashankar Srivatsan (Scientist, Algal Biotechnology and Nutritionally rich products development) and extended his gratitude to Director, IHBT Dr. Sanjay Kumar for deputing an expert team to Ladakh promptly on the request of the department.
The workshop was attended by Director, DIHAR Ladakh; Director, Sowa Rigpa, Ladakh; Director, I & C, Ladakh; Chief Horticulture Officer, Leh and Kargil; SPMU, PMFME, Ladakh; Incubation Centre Team, Ladakh; NRLM Coordinator, Leh, and Kargil. The event saw the presence of various stakeholders/ entrepreneurs/ applicants under various Food Processing Schemes.