Leh, April 11: The Chairman/CEC, LAHDC Leh, Adv. Tashi Gyalson attended the launch of Project Signature at the EJM College today. During the event, the officials pledged to plant 40,000 plants in the Ladakh region to increase the green cover and also to provide economic opportunities for the locals.
Project Signature is a CSR initiative of SIDBI in collaboration with The Art of Living with the aim to plant 40,000 plants in the Ladakh region, including 20,000 locally grown willow trees and 20,000 exotic medicinal plants and herbs with high commercial value.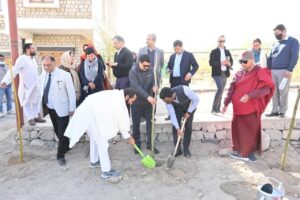 Addressing the gathering, CEC Adv Tashi Gyalson thanked the Art of Living and SIDBI for the much-needed initiative. He stated that Ladakh is one of the most loved tourist places in the country and the initiative to plant trees would enhance the beauty, tourism and economy of Ladakh. He informed about LAHDC Leh's initiative to conduct a mass plantation drive in collaboration with Go Green Go Organic in Chushul village on the World Environment Day on June 5 later this year. He hoped to collaborate with Project Signature to conduct such a plantation drive in the future. CEC Adv. Tashi Gyalson spoke on the importance of promoting sustainable practices and conserving the environment from the effects of global warming.
Earlier, S Ramann, CMD of SIDBI, addressed the gathering and shared the significance of Project Signature for the Ladakh region. He said that the production of fruits, woods and herbs would leave behind a green signature in Ladakh.
Director, The Art of Living, Rangaraj Shriramulu, informed that the positive impact of the project would soon be visible in Ladakh. He stated that the project would not only help in fighting climate change by increasing the green cover but also provide the gift of precious medicinal herbs accessible to more people and promote entrepreneurs.
Rangaraj further informed about The Art of Living's initiative for the welfare of the people and the planet by planting around 81 million trees in 36 countries and 26 Indian states to date.
The dignitaries also planted trees to kickstart the project.
Chairman and MD, SIDBI S. Ramann; DC Leh, Shrikant Balasaheb Suse; Art of Living Apex Member; Directors of Art of Living Project; EJM NSS Wing Head; representative of DIHAR; Principal of EJM College; Professors of EJM College; representatives of women's wing of different religious organisation and student attended the event.