KARGIL, May 31, 2022: Government Higher Secondary School Barsoo, Sankoo today celebrated World No Tobacco Day and organized an awareness rally.
An awareness rally was taken out which started from Higher School premises to Singroung with students displaying banners and holding placards chanting anti-tobacco slogans.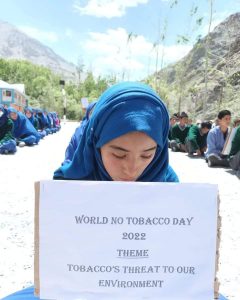 Both teachers and students of the institution participated in the rally. The event was managed by Gandhi House of the school.
During the program, Wilayat Ali Zildar (lecturer) addressed the students about the impact of tobacco on the human respiratory system, tobacco as the killer and its effects on youth.
He appealed people across to unite together and fight against the tobacco menace in the society.
Incharge Principal and lecturer GHSS Barsoo Muhammad Ilyass thanked to all the participants for making the program successful.
The teachers appealed to the parents to keep an eye on their children and their activities so that they don't indulge in bad habits.