Information Department Leh organises workshop for local journalists
Leh, August 12: Department of Information and Public Relations, Leh organised a capacity-building workshop for local Journalists and staff of the Information Department, Leh.
Ramesh Ramachandran from DD India, Jatin Nagpal and Tithi Sharma-both representatives from Meta (earlier known as Facebook) and Sunetro Ghosal, the Founding Editor of Stawa Magazine, were the resource persons for the one-day workshop.
Executive Councillor, Information, LAHDC Leh, Stanzin Chospel, was the chief guest for the occasion. Terming relevant and fact-based information as important, he asked the media persons from Leh to avail full benefit from the workshop and expressed hope to see such workshops in the future.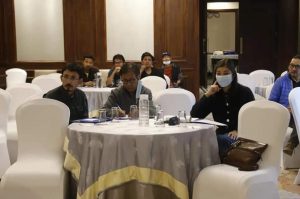 Commissioner/Secretary, Information, Padma Angmo shared that the aim of the workshop is to build the capacity of local journalists with the help of experts from different fields of journalism. She also shared that other such workshop would be organised in the future for local journalists. She further highlighted the importance of fact-based and ethical journalism.
Ramesh Ramachandran from DD India spoke on 'Recalling the Principles of Journalism.' He gave a detailed presentation on the principles of journalism, including the techniques. He talked in detail about the measures to counter fake news.
Referring to responsibilities of journalists, Ramesh stated that journalists should perform their professional duties with utmost dedication and in compliance with journalistic ethics.
Jatin Nagpal, the representative from Meta, gave a presentation on safety of journalists and video-based practices. He briefed the participants about other tools like comment moderation, ICFJ Digital Security Courses and journalist safety resources.
Tithi Sharma, also from Meta, gave a presentation on video-based practices with a focus on the process to creating reels. She called reels a platform to increase audience on social media.
Sunetro Ghoshal, Founding Editor, Stawa Magazine, spoke on journalism in Ladakh and the importance of ethics.
Joint Director, Information Department, Imteeaz Kacho, said that the the first-of-its-kind workshop organised by Information Department for the local journalist would be a continuous process. He also thanked the resource persons and journalists for attending the workshop.
Earlier, Assistant Director of Information Department, Dr Tundup Namgail, welcomed the guests and shared that the objective of the workshop is to build the capacity of local journalists. Also, he said that a vibrant local media has a role to play in social cohesion and has an integrating role.
There was also an interactive session between the participants and resource persons. The participants thanked the Information Department, Leh for organising the workshop.