Gram Panchayat Tumail organizes Gram Sabha under ISA
KARGIL, AUGST 13, 2022:
Gram Panchayat Tumail organized a Gram Sabha under the banner of the Implementation Support Agency (ISA) Jal Jeevan Mission completion certificate.
On the occasion, Zakir Hussain Chairman BDC Sodh, Mukhtar Hussain BDO Sodh, AEE PHE Department Mohammad Abdullah, JE Manzoor Hussain and team of ISA were present.
Zakir Hussain addressed the public and congratulated the people of Tumail on the completion of Har Ghar Jal scheme. He thanked the Government of India, Prime Minister Narendra Modi, Governor UT Ladakh RK Mathur and Commissioner Secretary PHE Ajeet Kumar Sahu for their unconditional support for the scheme which has proved beneficial for the public at large.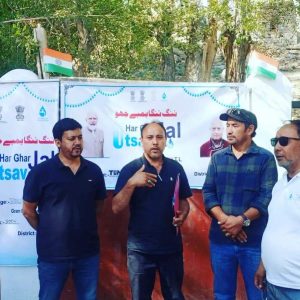 Zakir Hussain said under the leadership of Prime Minister Narendra Modi, Kargil in UT Ladakh is moving fast towards the goal of providing tap water to every household.
With his encouragement, Sodh Block Panchayat Tumail has achieved an unprecedented and proud achievement of providing clean tap water to every household through the JJM.
Sodh Block has the distinction of becoming the first Har Ghar Jal certified Panchayat in the district. The District Administration and all citizen Panchayats deserve congratulations for this.