Intl. Women's Day: AIR Kargil felicitates women achievers
Kargil, March 08, 2023: The All India Radio Kargil today celebrated International Women's Day at MP Studio, AIR Kargil and felicitated many women achievers.
On the occasion, BDC Chairperson Shakar Chiktan, Sayeeda Banoo was the chief guest while Gynecologist CHC Sankoo, Dr Nasreen Fatima was the guest of honour. Others who were present on the occasion include Head of Office Ramakant Prashar, Er. Ten Singh, Program Head Gulzar Hussain, Senior Programmer Mohd Hassan Askari and Copy Editor RNU, AIR Kargil Anayat Ali along with prominent women personalities of Kargil.
While speaking on the occasion, Dr Nasreen Fatima said the theme for this year's International Women's Day is "DigitALL Innovation and Technology for Gender Equality."
She said Kargil society always supports girl child and there is always support towards both genders due to which people including women from varied fields are excelling.
The BDC Chairperson said if a girl from a remote village of Chiktan can utilize the opportunities into exemplary result-oriented activities as she did, then every woman from Kargil can do wonders and society should come forward to encourage such people.
She appreciated the role of AIR Kargil for giving women, from different fields, an opportunity to express and share their expertise to encourage others.
The AIR Kargil later felicitated the women achievers with traditional Khataks and certificates and hailed their role in many fields.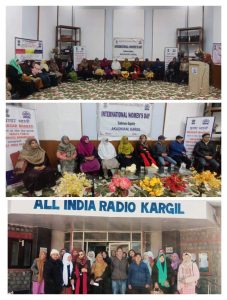 The achievers include Sayeeda Banoo (BDC Chairperson) for her exemplary and revolutionary steps for the development of Shakar Chiktan Block with decisions like bringing all party representatives at one platform, organizing Shakar Chiktan Winter Carnival, Tourism Development works etc.
Dr Nasreen Fatima was felicitated for her exemplary work in the field of health and social work.
Similarly, Hakima Banoo, Panch Hunderman was felicitated for her revolutionary decisions for arranging Solar Lift Irrigation Pump to save her village from drought.
Husniya Banoo, Panch Wakha, who is also a progressive farmer of mushroom cultivation and an instructor for training women in mushroom cultivation, was also felicitated.
Progressive farmers like Salma Banoo, Kulsum Banoo, Fatima Banoo and Sakina Banoo were also felicitated for their exemplary work in adopting modern agriculture techniques and vegetable cultivation in achieving financial independence.
Dechen Choskit, folk artist and singer was also felicitated for promoting and preserving the traditional treasure of folk songs in Balti, Purgi and Ladakhi.
Tayiba Fatima, the youngest female archer who won gold in a recent LG Cup Archery Tournament was also felicitated.
Archo Nargis and Zahra Banoo Mir, senior female broadcasters of AIR Kargil were felicitated for helping and empowering women through their fruitful programs from AIR Kargil.
On the occasion, Head of Office AIR Kargil, Ramakant Prashar said AIR Kargil is the voice of people in Kargil and a medium to reach out to the audience.
He urged the women achievers to use the medium (AIR Kargil) to share their stories to influence young ones so that the theme of this year's International Women's Day can be achieved.