Joint Director Information Imteeaz Kacho interacts with media fraternity of Kargil
Seeks suggestions to formulate guidelines for Journalist Welfare Scheme for Ladakh
KARGIL, AUGUST 24, 2022: Joint Director Information Ladakh, Imteeaz Kacho today chaired an interactive session with media fraternity of Kargil district in order to discuss various issues and also to seek suggestions to formulate guidelines for Journalist Welfare Scheme (JWS) for Ladakh UT.
Assistant Director DIPR Kargil, Padma Angmo, President Press Club of Ladakh, Kargil Hussain Khalo, media persons from print, electronic, digital media, All India Radio Kargil and Doordarshan besides Editor, Reporters, Officials of DIPR Kargil attended the session.
During the meeting, threadbare discussions and deliberations were held regarding the formulation of guidelines for the Journalist Welfare Scheme and various issues being faced by the journalists in Kargil were thoroughly discussed.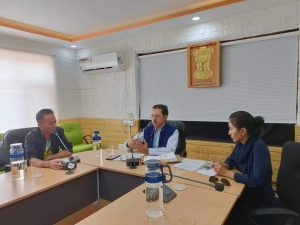 Addressing the journalists, the Joint Director thanked the media fraternity for gracing the meeting and pointed out that since the formation of Ladakh as a separate Union Territory, the notion and working capacity of DIPR in Ladakh has transformed to a great extent.
He said that many endeavours are being undertaken by the UT Administration in skilling and empowering creative professionals.
The Joint Director said several training sessions and workshops have been held within the UT to extend the horizon of the creative sphere and events like film festivals and workshops for voice-over artists and journalists are examples of it.
Reflecting on the endeavours of media in Kargil, Kacho expressed satisfaction that despite various geographical, financial and physical constraints, media has been able to tell stories from Kargil at local, national and international media platforms.
The Joint Director said that in the Journalist Welfare Scheme all efforts will be made to make it a comprehensive and inclusive document in order to provide maximum welfare under the umbrella of the scheme to journalists of Ladakh.
He said it was a great experience to listen to suggestions forwarded by all journalists of Kargil and expressed hope that this document will be historic and will be drafted soon.
On the occasion, AD DIPR Kargil, Padma Angmo said capacity-building programmes will be held with the concerned stakeholders. She further said that the suggestions forwarded by the media fraternity regarding the media policy will be taken care of.
President PCL Kargil Hussain Khalu highlighted various issues to be included in the welfare scheme which mainly includes residential quarters, health insurance, accreditation of left-out journalists, digital media empanelment besides various other problems.
During the meeting, Bureau Chief Gulistan News G M Noorie gave his suggestions in the form of a detailed power point presentation. These points were discussed in detail. Representatives of AIR Kargil and media professionals from print and electronic media outlets also spoke at length and gave their suggestions.