LAHDC Kargil felicitates winner of India's 1st ever Mixed Martial Arts reality series 'Kumite1 Warrior Hunt'
Kargil, Feb 23, 2023: LAHDC Kargil today felicitated Mehdi Nasiri, who has created history by becoming the winner of India's 1st ever Mixed Martial Arts (MMA) reality series 'Kumite1 Warrior Hunt' held recently in Mumbai.
Acting Chairman/CEC, LAHDC, Kargil, Mubarak Shah Naqvi in presence of Executive Councilor, RD, Tourism and Zanskar Affairs, Er. Punchok Tashi, Executive Councilor, Social Welfare, Aga Syed Mehdi Fazily appreciated Nasiri for the win and wished best for his future endeavours.
The other dignitaries who were present on the occasion include Councilor Poyen, Mayor Poyeen, representative of Youth Services and Sports Department Kargil and others.
On the occasion, the acting CEC on behalf of LAHDC, Kargil congratulated Nasiri for his victory in Mumbai and for his selection at the international level. He said it is a proud moment for Kargil and it will be an inspiration for the younger generation of the district.
Naqvi also said that Nasiri will coach and train others for the MMA in the district. He also said that LAHDC, Kargil is always available to provide all possible support for the players.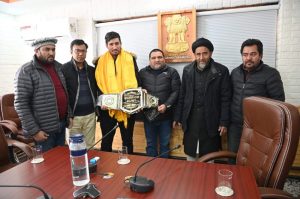 On the occasion, Councilor Poyen requested for the construction of playground for MMA in Poyen area and Nasiri will coach the interested players of the game.
The acting CEC instructed the Youth Services and Sports Department Kargil to prepare a DPR of the project. He also said the work on the proposed playground will be started soon. He also assured to provide every support for difficulties faced in the registration process.
On the occasion, Nasiri thanked the Council for their support and for inviting him.
Hailing from Poyen Kargil, Nasiri said the competition was tough throughout the series and he kept the audiences guessing till end of the show wherein three of the competitors emerged as the Champions of India's first-ever MMA reality series 'Kumite 1 Warrior Hunt.'
He thanked the organizers of the India's 1st ever Mixed Martial Arts (MMA) reality series including the host Suniel Shetty and Muhammad Ali Budwani (organizer) for giving him a chance to participate in the series.
He said he participated in the show just to send a message that athletes from Ladakh don't lag behind and are as good and competitive as athletes from any other place of the country.
The winners will now represent India on a global stage, raising the bar for the sport and inspiring the next generation of martial artists.
The winners will be trained internationally with the best athletes. The team of the three shall represent 'Team India' in 'K 1 Asian Championship' in mid-2023 in UAE.