Supplement the diet, ensure regular health check-ups & provide health supplements; Advisor Narula reviews PM POSHAN Scheme  
Leh, Feb 22: Advisor Ladakh Umang Narula chaired a meeting of the Steering-cum-Monitoring Committee for the implementation of the Prime Minister's Overarching Scheme for Holistic Nutrition (PM POSHAN) in the Union Territory of Ladakh.
The objective of the scheme implemented by the Ministry of Education, GoI is to improve the nutritional status of children in preparatory school (ages 05 and below) up till 8th standard in all government, local body and government aided schools.
Director School Education Department, Ladakh Safdar Ali through a presentation highlighted the present scenario of the implementation of the scheme, with PRI's, School Management Committee and village Education Committee's supervising the scheme at the grassroots.
Discussing the diet plan under the scheme, Advisor Narula stated that efforts must be made to further improve the diet plan, keeping into consideration the prevailing issue of anaemia in children as projected under the National Family Health Survey 5. He also stressed on ensuring that the food grains provided are fortified, including local food items and millets if possible.
Advisor Narula also directed the department to ensure regular health check-ups, distribution of nutritional supplements, de-worming tablets and urged the department to ensure distribution of spectacles immediately post eye check-ups.
Further, deliberations were also held on developing nutrition gardens in schools. Advisor Narula stated that this can be achieved as an activity in all schools in the available space, and residential schools can be provided with Poly Carbonated green houses. In this regard, Advisor Narula asked the department to identify potential schools for the establishment of such greenhouses which will further assist in providing a wholesome meal to the children.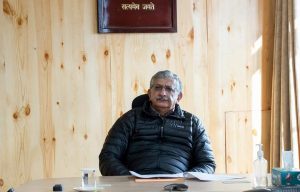 It is pertinent to mention that the diet plan of the scheme has been chalked out in consultation with FSSI, nutritionists and members from the Heath department, and are tested by a committee of parents and community members at regular intervals.
Principal Secretary Dr. Pawan Kotwal, Principal Secretary Sanjeev Khirwar, Divisional Commissioner Saugat Biswas, Commissioner Secretary Padma Angmo, Administrative Secretary Ravinder Kumar, Deputy Commissioner Leh Srikanth Suse, Deputy Commissioner Kargil Santosh Sukheve, Director National Health Mission Dr. Iftikhar Ahmed Chowdhary and other concerned officials attended the meeting.