Week-long cultural revival workshop, language awareness camp concludes at Kukshow village
Kargil, Feb 23, 2023: LAHDC, Kargil and Ladakh Cultural Academy Kargil organized a week-long cultural revival workshop and language awareness camp that concluded at Kukshow village on Wednesday.
On the valedictory day of the week long camp, Executive Councilor, Health, LAHDC Kargil, Mohsin Ali graced the occasion as chief guest. He briefed about the importance of culture and language preservation. He stressed on promotion of rich and unique socio-cultural heritage of Ladakh.
He said such programs will boost cultural heritage of Ladakh. Kukshow village is famous in Ladakh for its unique cultural identity, traditions and brotherhood.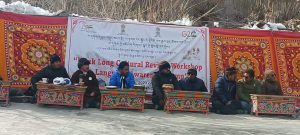 There were almost 46 participants in the week long cultural revival workshop and four experts were also engaged for the program.
On the closing ceremony, the EC along with the officers of BSNL Kargil announced that they will identify locations for early erection of mobile towers. They informed the general public that soon they will execute erection of towers in villages like Pachari, Kukshow and Dargoo of Shakar Chiktan sub-division so that the villages get proper connectivity.
The village representatives and public were present during the closing ceremony of the awareness camp. They welcomed the guests with traditional Khataks.